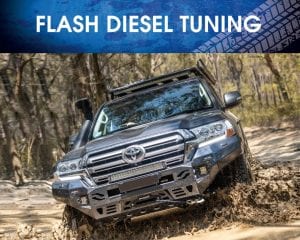 Looking to enhance the performance of your Diesel Engine to meet your needs?
Get outstanding diesel tuning and diesel upgrade services to extract the most from your vehicle.
Flash Diesel provides exceptional diesel engine tuning and upgrades that will give you more power and torque, and better drive-ability.
We are the largest custom diesel tuning company in Australia, with over 15 years experience delivering outstanding diesel engine services throughout Australia and New Zealand.
Our technicians are experienced experts who deliver customised diesel solutions to meet the individual need of each customer.
Widely considered as the "Trusted Name" in tuning, Flash Diesel is the leading diesel tuning network in Australia. We've been offering diesel tuning and upgrade solutions for over 15 years in Australia, New Zealand and Fiji. We deliver a variety of outstanding diesel vehicle services including ECU Remapping, intercooler upgrade, and more, to enhance the performance of your diesel vehicle. We provide and utilize the highest quality products, as well as the best workmanship to ensure that we meet and exceed your expectations.
Although diesel tuning is widely available and offered by many outlets, if you want a great result, tuning your diesel vehicle is a delicate procedure that requires a professional, well equipped and well trained experienced team. At Flash Diesel, we are committed to our customers and pride ourselves on our ability to deliver exceptional diesel tuning services. Our flash tuning software is custom developed in our head office by experts with decades of experience, to provide a vast range of upgrade options for each of the supported vehicles as well as meet each customers' needs. Our knowledgeable team can offer a solution to your needs. Call us on 07 4952 3821.
Schedule Your Auto Maintenance Service Today
We understand how important your car, truck or SUV is to your daily schedule. Whether you're using your vehicle for a morning commute or a cross-country road trip, you should contact our experts to ensure peak performance. Our goal is to keep your vehicle safe, fuel efficient and performing at its very best. Customers come to us for real solutions to all vehicle systems – engine, mechanical and electrical. Our team has over 80 years of combined experience in the auto repair industry. Give us a call today at 07 4952 6510 to schedule your next auto repair appointment. Next time you're in the area, feel free to stop by. We gladly accept all of our walk-ins!