Drive In Comfort – Quality Air Conditioning Service
Air Conditioning
Your vehicle can be unbearable when the air conditioning is malfunctioning. Make sure your car, ute or SUV is maintained and serviced by our qualified air conditioning service technicians. Our team checks all the A/C components and make sure that all fluids are flushed, refilled or exchanged as necessary and cabin filters are changed to ensure clean air circulation.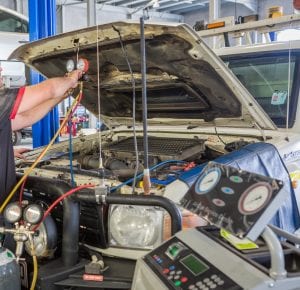 Overlooking and disregarding servicing and maintenance can lead to bacteria and mould build up in your air conditioner. This causes foul odours and can cause respiratory problems to people who suffer from asthma or other allergies. If your nose gets blocked, dry or runny whilst travelling, it is a sign that your air conditioner is not circulating clean air.
Maintain a regular service schedule to ensure all your air conditioner components are operating correctly. Let us meet all your vehicles air conditioning needs.
Make a Booking Today For A/C Service
Today's a great day to make a booking for your vehicle's optimal air conditioning service. Give us a call at +61 7 4952 6510 and we'll let you know exactly how we can help you. You'll drive away behind the wheel of a fully serviced air conditioning system. Cool down in hot summer afternoons and keep warm in winter nights. You can depend on us for the best quality parts, tools and service techniques. To save time, use our convenient online booking system. Next time you're in the area, feel free to stop by to meet with our air conditioning service experts.
Schedule Your Auto Maintenance Service Today
We understand how important your car, truck or SUV is to your daily schedule. Whether you're using your vehicle for a morning commute or a cross-country road trip, you should contact our experts to ensure peak performance. Our goal is to keep your vehicle safe, fuel efficient and performing at its very best. Customers come to us for real solutions to all vehicle systems – engine, mechanical and electrical. Our team has over 80 years of combined experience in the auto repair industry. Give us a call today at 07 4952 6510 to schedule your next auto repair appointment. Next time you're in the area, feel free to stop by. We gladly accept all of our walk-ins!